Commission Free Online ordering System For Restaurants
Generate more revenue, reach more customers and have them order through your own website
Real-time online ordering made easy without the hassle, contracts or high commission fees or an agency or third party delivery company 
🔥 Order Ahead and Schedule Orders
🔥 Run your own promotions and combo deals
🔥 First Time Customer Promotions
🔥 Mobile IOS and Android App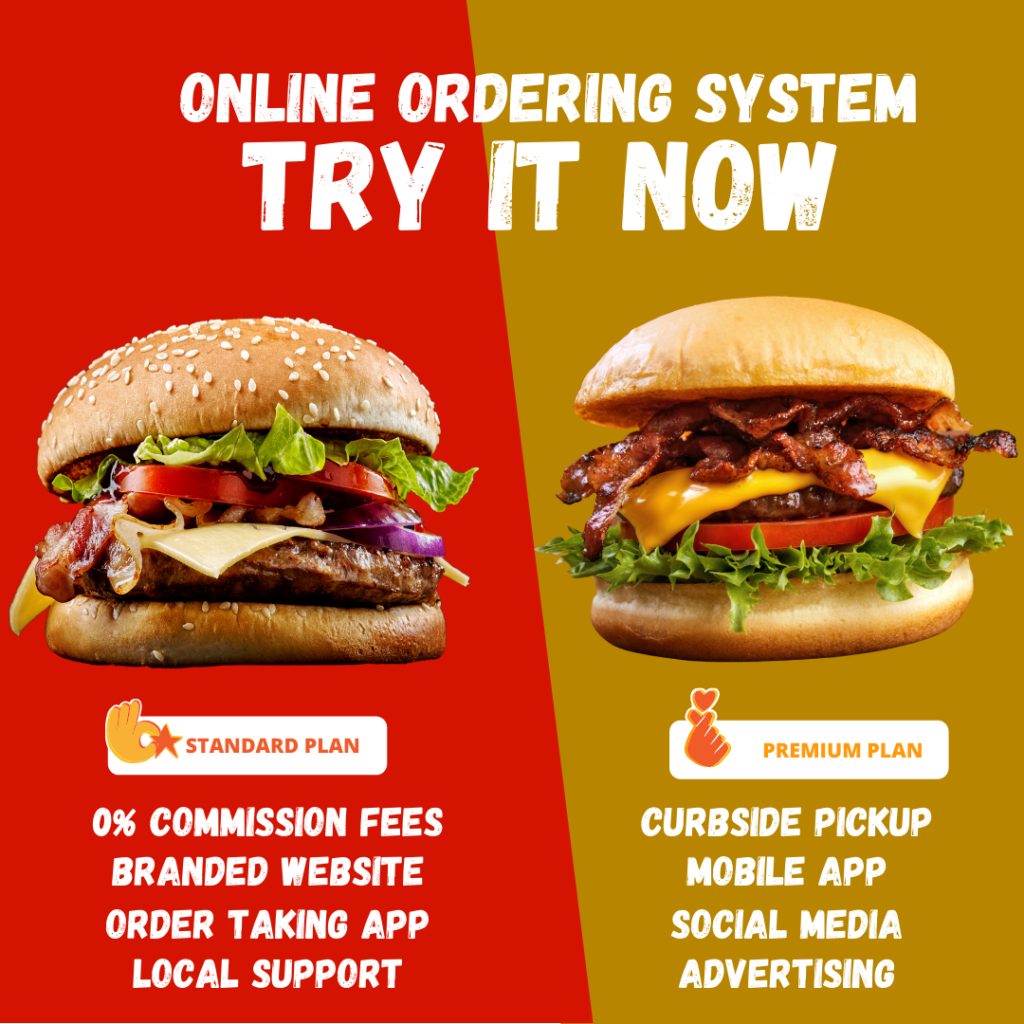 Our Commission free online ordering system for restaurants comes with your own website and/or app. We build your own personalized menu and custom promotions.  Run order ahead and order later options, pickup or in-house delivery, specialized promotions, Facebook ordering, thermal printing and much more. Unlike most ordering systems you can specify the exact time you want each customer to pick up the order. 
Worried about spending hundreds or even thousands of dollars for a developer to setup everything? With our services, you need to worry because setup is free!
Customers will go to your website or Facebook page, browse through your restaurant menu and place an order via our secure online checkout. Once they place an order, you will receive it instantly on your phone or tablet via the app (see picture shown)
Having a custom branded online ordering system for restaurants is a great way to increase your online presence and get customers to order through your own restaurant's website! Start cutting back on high commission third-party apps, eating into your bottom line and giving you little return.
All ordering is done through your website. That means you have control over your customer data. This helps you make data driven and informed marketing decisions. 
Need a custom website? No problem.  Want expert help with Google, Facebook and Instagram advertising to get more visits and orders? We provide that for you!
Data driven decision are now at your finger tips! Reporting and analytics is easy. View sales in a dashboard for any time frame, ordering channel or sales type. 
View sales trends, sales per ordering channel (Facebook vs website) . Easily view and segment in your online ordering dashboard and get key actionable items to increase your sales. 
Delivery heat map will show you exactly where your customers are ordering from and will allow you to identify areas of high delivery concentration. 
Running your online ordering system for restaurants you don't have to guess where your customers are coming from. 
The online ordering system for restaurants is your very own marketing machine. Entice customers to order with online ordering promotions and mouth-watering deals. Online ordering promotions are automatically applied during checkout. In addition, create a coupon for customers to use during checkout. 
Track the number of times your promo deal was applied and test different promotion strategies like Free Delivery,  2 For 1 Combo Deals or simply 10% OFF during pickup. Encourage new customers to order with first time online ordering discounts. 
Run multiple promotions like a pro and try it together with Facebook,  Google Ads, Instagram and email marketing. 
"The Order Guys have help restaurants save thousands per month in high third party commission fees and have help restaurants increase their online orders"