Online Ordering For Your Restaurant
Unlimited real-time orders from your website to your phone
Starting Getting Online Orders Today!
Online Ordering For Restaurant Websites and Facebook Pages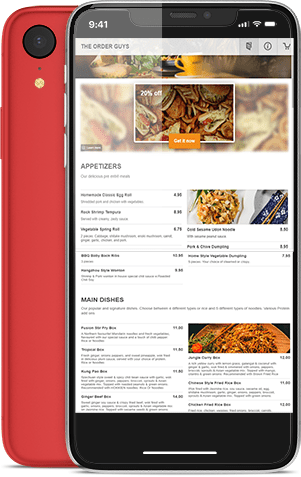 Optimized Checkout Experience
In-House Delivery Options
0% Commission on all online sales
All features mentioned above minus premium features
0% Commission on all online sales
All features mentioned above minus premium features
Help with menu edits and changes
Assisting with menu edits and changes, uploading pictures and making changes for you. Priority support and service
Online / credit card payment processor add on
Connect your ordering system with your payment gateway so that customers pay online to your bank account
Run promotions like a marketing pro
Run multiple promos like a marketing pro. Advanced targeting and client segmentation. 
Turn key sales optimized website
Build a mobile friendly website easily that's highly optimized for search engines. Domain name and hosting included
Online Advertising Facebook
Start advertising with Facebook
Custom Facebook advertising and management starting at 10% ad spend. Get more orders quickly. No setup Fee!
Full service white label SEO
Full service white label SEO. Content writing, backlinks and page optimizations and social posts.
Your online ordering platform, allows you to self serve manage but we can also help you manage your menu and strategize with you to get more orders. Through running promotions, local SEO, online advertising, email promotion and data analytics we will help grow your online presence. 
In addition, we offer premium advertising and SEO services as well as web development, web design, consulting and conversion rate optimization. See our slide deck
Sit back and relax, everything will be taken care of.  With the Order Guys you will be able to accept orders on your restaurant website or Facebook page in real time.
Call us to get started today risk free, with no long term contract and no commission fees.
Your Restaurant. Your Customers.
Take the power back and be in full control. Get a complete online ordering solution for pickup orders, in-house delivery and table booking all powered by the Food Booking App. Take control of all orders in your restaurant, and reach new customers without the third party commission fees that lists your competitors and eats into your bottom line.
The Five Best Indian Restaurants in Edmonton Indian food is full of flavors and aromas…
The Five Best Japanese Restaurants in Edmonton While Edmonton is pretty far from the ocean…
SEO for restaurants in 2020. A high level summary of SEO strategies Restaurants can implement today to get more orders online